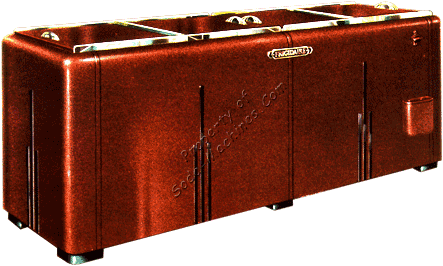 SPECIFICATIONS:
Vending Capacity: 250 - 12oz Bottles
Precool Capacity: $252.50
Dimensions: 34 1/2" high, 85 1/4" wide, 26 1/2" deep
Weight: 750 lbs.
Production Dates: Lates 1930's, 1937
Price New: $252.50
Comments: We all know Frigidaire manufactured many refrigeration systems for various types of coolers. Their Deluxe Cooler line in the late 30's have that familair art deco styling incorporating stainless-steel trim. The only color available for the BB-257 was Maroon. This cooler appears to be quite large and may not have had optional casters...