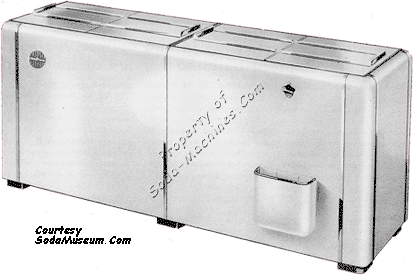 SPECIFICATIONS:
Vending Capacity: 100 Bottles
Precool Capacity: 275 Bottles
Dimensions: 36" high, 85" wide, 25 1/8" deep
Weight: N/A
Production Dates: 1938, Late 1930s
Price New: N/A
Comments: According to a brochure, the TM-44 is finished in a lustrous Cromwell green with contrasting Polo green trim. The brochure refers to the TM-44 as the Super-Service model. There are four sliding lids to access the cooling compartment. Also available was a water bubbler(water foutain) attachment.