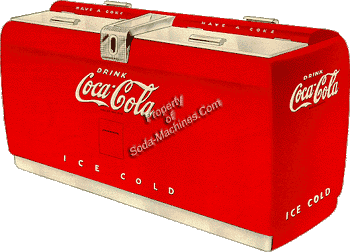 SPECIFICATIONS:
Vending Capacity: 240 Bottles
Precool Capacity: N/A
Dimensions: 36 1/4" high, 72 1/8" wide, 28 7/16" deep
Weight: 450 lbs.
Production Dates: Mid 1940's into the 1950's
Price New: N/A
Comments: The WE-10 is the largest size of "wet" coolers manufactured by Westinghouse. It is very similar to the Westinghouse WI-10 except the WI-10 utilizes ice as its cooling medium. This cooler came standard with a caster set. The Cavalier CI-10 is also very much a similar machine.