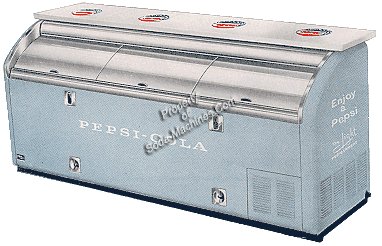 SPECIFICATIONS:
Vending Capacity: 792-12oz Bottles; 33 Cases
Precool Capacity: N/A
Dimensions: 41" high, 95" wide, 29 3/4" deep
Weight: N/A
Production Dates: Late 50's - Early 60's
Price New: $582.00
Comments: The TIC-833 is a horizontal cooler similar to the coolers manufactured by Bevco, Narco and Victor in that it has a full length formica counter that was standard equipment. The TIC-833 has three stainless steel lids or doors that roll back to access the cooling compartment. This model has 16 Ice Cube Trays. The smaller version is the True TIC-623 while the largest model in this cooler line is the True TIC-1043. It's also noteworthy that the formica counter tops cost more, $5.50 per running foot, than the stainless steel which was $2.75 per running foot. During this time period, True offered a "Light Look" Panel which can be seen on the True TIC-623. The cost was $17.00 for this model.