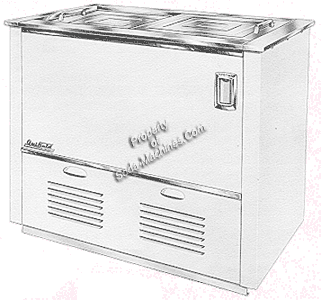 SPECIFICATIONS:
Vending Capacity: 144 10oz. bottles; 312 bottles corded
Precool Capacity: N/A
Dimensions: 35 1/4" high x 46" wide x 27 1/8" deep
Weight: 317 lbs.
Production Dates: 1959 - Early 1960s
Price New: N/A
Comments: The "Regal" name is used once again on a Quikold Cooler. The earlier models where quite different. This is a "Dry" electric cooler eventhough the liner is stainless steel. Quikold refers to this type of refrigeration as the "Quikold Artic Air Cold Wall Dry Coolers". The lids and trim are all stainless steel.