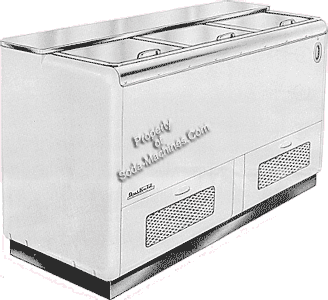 SPECIFICATIONS:
Vending Capacity: 432 8oz. bottles corder; 312 12 oz. bottle corded
Precool Capacity: N/A
Dimensions: 36" high, 65" wide, 26" deep
Weight: 458 lbs.
Production Dates: Early 1960s
Price New: N/A
Comments: The Quikold 2500-WD2 is basically the same machine as the Quikold 2000-WD2. The 2500-BWD is slightly different in that the cooler has a stainless steel counter/bar top. Like so many other coolers of this type, the lids are stainless steel and slide horizontally below the counter for access into the cooler.