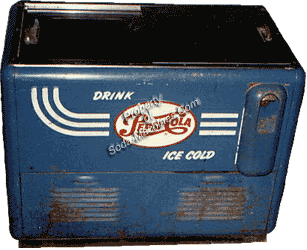 SPECIFICATIONS:
Vending Capacity: 144 Bottles
Precool Capacity: N/A
Dimensions: 34" high, 44" wide, 25 5/8" deep
Weight: 280 lbs.
Production Dates: Late 1940's into the Mid 1950's
Price New: N/A
Comments: The S & S 1400-WD2 is the same size as the S&S 1400. The storage compartment below now houses the refrigeration unit which can cool the bottles either "dry" or "wet". The bottle opener is built into the cooler so the actual cap catcher is in the refrigeration compartment. The two stainless steel lids are removable and slide from side to side to access the cooling compartment.