Soda-Machines.Com Market Place
Be-Bop Joes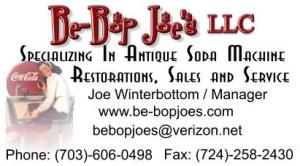 Google Map
46 Van Voorhis Lane
Monongahela
Pennsylvania
15063
USA
Contact Person:

Joe Winterbottom
Phone:

703-606-0498
Email:

This e-mail address is being protected from spam bots, you need JavaScript enabled to view it
Website:
Website
Description:
Be-bop Joes specializes in complete and partial restorations of vintage soda machines. Contact Be-bop Joe's if you wish to purchase a machine, have a machine for sale, or would like your soda machine restored today!
Call/Email for availability and pricing. Some companies attempt to justify their high prices by claiming they are performing a far better restoration than others. If you want a complete restoration and do not wish to pay enormous prices, then give Be-Bop Joe's a call. We take pride in what we do and our restorations speak for themselves. Please take a look at our restoration page on our website
www.be-bopjoes.com
, there you can view our detailed process. At Be-bop Joe's LLC, we encourage you to do your research and shop around. We are confident that after you have done your homework, you will say "Be-Bop Joe's is the one for me."
| | |
| --- | --- |
| Date added: 2008-11-22 13:23:42 Hits: 1550 | |