| | | |
| --- | --- | --- |
| Victor C-31 | | |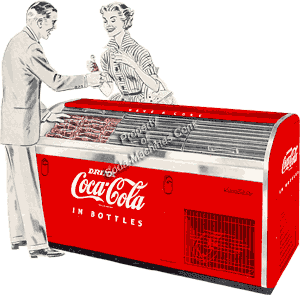 SPECIFICATIONS:
Vending Capacity: 756 Bottles
Precool Capacity: N/A
Dimensions: 40" high, 75 1/2" wide, 29" deep
Weight: 605 lbs.
Production Dates: Early 1950's into the Mid 1950's
Price New: N/A
Comments: The C-31 is nicknamed the "Three Door" because it has three sliding door to access the cooling compartment. The C-31 is a slightly larger version of the Victor C-18 and also has two cap catchers. Many of the Victor Coolers of this style are nicknamed by the number of doors the cooler has to access the bottles. A counter top that runs the width of the cooler could be ordered as optional equipment. Generally, models with original counter tops are very desirable.