| | | |
| --- | --- | --- |
| True TID-400-8-8 | | |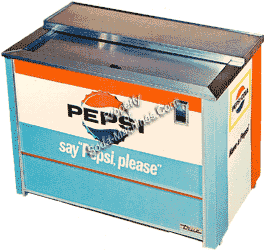 SPECIFICATIONS:
Vending Capacity: 8 Cases
Precool Capacity: N/A
Dimensions: 37" high, 49" wide, 26 1/2" deep
Weight: N/A
Production Dates: N/A
Price New: N/A
Comments: The TID-400-8-8 is a horizontal cooler that has a full length Stainless Steel Counter Top that was standard equipment. The TID-400-8-8 has one stainless steel lid that slides back to access the cooling compartment. The cooler has the capabilities to store 8 Ice Cube Trays. The close cousin is the model True TD-400 which lacked the ability to house Ice Cube Trays. Generally, these coolers were utilized as "Self Serve" Coolers in that you removed the bottled soda from the cooler instead of the store attendant.