| | | |
| --- | --- | --- |
| True T-950 | | |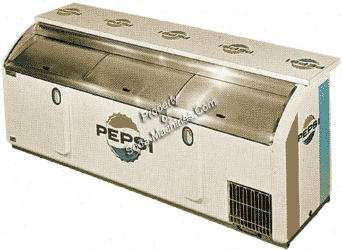 SPECIFICATIONS:
Vending Capacity: 50 Cases
Precool Capacity: N/A
Dimensions: 39 3/4" high, 108" wide, 29 3/4" deep
Weight: N/A
Production Dates: N/A
Price New: N/A
Comments: The T-950 is a horizontal cooler similar to the coolers manufactured by Bevco, Narco and Victor in that it has a full length formica counter that was standard equipment. The T-950 has three stainless steel lids or doors that flip back to access the cooling compartment. There two cap catchers located on the servers side of the cooler. The close cousin is the model True TI-938 which has the ability to house 18 Ice Cube Trays.