| | | |
| --- | --- | --- |
| Quikold 140-FA | | |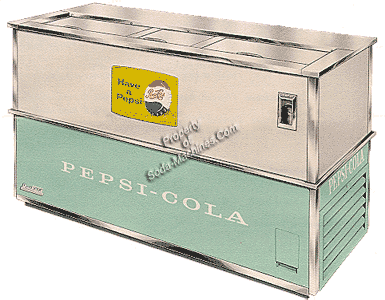 SPECIFICATIONS:
Vending Capacity: 216 8oz. - 204 12oz. bottles; 432 8oz. - 288 12oz. bottles corded
Precool Capacity: N/A
Dimensions: 35 1/4" high x 66" wide x 27 1/8" deep
Weight: 446 lbs.
Production Dates: 1959 - Early 1960s
Price New: N/A
Comments: The "140-FA" Counter Top is basically the same cooler as the Quikold 200-FA. This cooler appears to be a fancier version with the Pepsi "Light Look". This is a "Dry" electric cooler eventhough the liner is stainless steel. Quikold refers to this type of refrigeration utilizes "Forced Air-Fan Cooled". The three lids and trim are all stainless steel. The bottle opener is recessed with a stainlees steel trim bezel. Each of the three stainless steel lids slide under the counter top for access into the cooling compartment.