| | | |
| --- | --- | --- |
| Ideal 300 | | |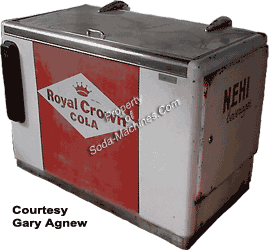 SPECIFICATIONS:
Vending Capacity: 136-7oz Bottles; 120-12oz Bottles
Precool Capacity: 140-7oz Bottles; 100-12oz Bottles
Dimensions: 39 1/2" high, 54" wide, 32 1/2" deep
Weight: 364 lbs.
Production Dates: Late 1940's to the late 1950's
Price New: N/A
Comments: The model 300B is the largest of Ideal's "slider" vendors and like other "sliders", it could vend eight flavors and different size bottles. Many coolers of this type were "embossed" with a variety of soda brands such as Pepsi, 7-Up, Royal Crown, Hires, Barqs and others. Ideal also manufactured these coolers without "embossed" lettering for generic usage. There's an access door on the right side of the cooler for loading sodas into the vending rack as well as the precool area.