| | | |
| --- | --- | --- |
| Glasco Dual Rotary Coin | | |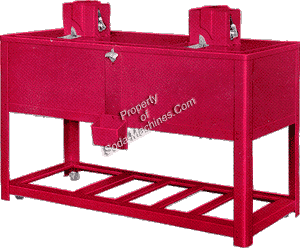 SPECIFICATIONS:
Vending Capacity: 46 Bottles
Precool Capacity: N/A
Dimensions: 35 1/2" high, 55 1/2" wide, 25" deep
Weight: 280 lbs.
Production Dates: Mid 1930's
Price New: N/A
Comments: The Dual Rotary Coin was painted all red and had a shelf below for bottle storage up to two cases. This cooler is the larger of two versions; the Standard Rotary Coin is half the size and capacity of the Dual Rotary Coin. The cooler comes with heavy duty casters to easily move the machine if needed. What's unusual is that this cooler has two seperate coin mechanisms, one for each side. We don't have much info on this line of coolers from Glasco.