| | | |
| --- | --- | --- |
| Cavalier FE-6 | | |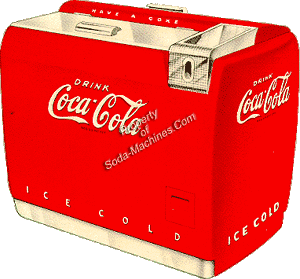 SPECIFICATIONS:
Vending Capacity: 72 Bottles
Precool Capacity: N/A
Dimensions: 36 3/16" high, 45" wide, 27 3/16" deep
Weight: N/A
Production Dates: Mid 1940's into the early 1950's
Price New: N/A
Comments: The FE-6 is an "electric" version of the Cavalier CI-6. Westinghouse produced a similar model called the Westinghouse WE-6. One noticable difference between the CI-6 and this cooler is the addition of the stainless steel kickplate and the front lid is stainless steel. On the right top side of the cooler is a glass window that allowed a patron to view the cold water being circulated within. Heavy duty casters were standard equipment on these coolers. These coolers had internal bottle openers and cap catchers with a drawer on the lower front of the cooler to empty the bottle caps. This appraoch was used on many coolers produced by both Cavalier and Westinghouse.