| | | |
| --- | --- | --- |
| The Liquid | | |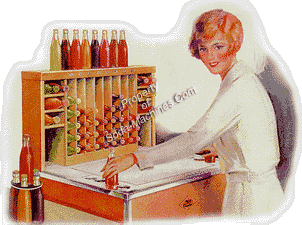 SPECIFICATIONS:
Vending Capacity: 72 Bottles
Precool Capacity: 72 Bottles(warm)
Dimensions: 35" wide, 30" deep
Weight: N/A
Production Dates: Late 1920's
Price New: N/A
Comments:
The Liquid, like the The Red Diamond, is a very rare machine. The vending process requires the patron to remove a warm bottle from the storage rack and push the bottle into a tube of choice to push out a cold bottle of soda. Pictured below is an original with the push rod. The original bottle storage area is made from metal as is the cooler itself. According to a trade publication from the 1930's, Dr. Pepper utilized "The Liquid" in their trade show display.