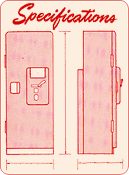 Soda Machines & Coolers Listings
You have found the largest Soda Machines Listing on the Internet!
We hope you find this section useful as it contains 600+ models from various manufacturers. Some models are missing pictures due to the lack of information; but remember, this is an on-going project...
I encourage visitors to visit our Discussion Areas if you have questions about a particular manufacturer or model.
Soda-Machines.Com is always looking for good photos, digital or print, of good clean soda machines that are not in our database. Be sure to check our listings for Soda Machines Needed from time to time...
If you have one of the missing Soda Machines and are willing to share it with our visitors, please Contact Us!
Review the Missing Photos List Here
---