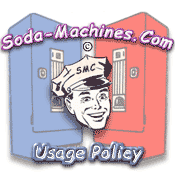 Soda-Machines.Com's Website usage policy
Other product and company names mentioned on the Soda-Machines.Com Website may be the trademarks of their respective owners. Soda-Machines.Com is not affiliated with any of the companies listed within this site and therefore accepts no responsibility of any actions thereof with any parties involved.
TERMS OF USE:
Permission to use Documents or Photos from this Web Site may be granted, provided that:
permission has been granted by Soda-Machines.Com

use of such Documents or Photos from this Web Site is for non-commercial or personal use only, and

no modifications of any Documents or Photos are made unless expressly permitted by Soda-Machines.Com.
No logo, graphic, photo or image from Soda-Machines.Com Web Site may be copied, downloaded or retransmitted unless expressly permitted by Soda-Machines.Com. Contact: jim@soda-machines.com if you have any questions about this Copyright Notice and Limitations of the Terms of Use.
Comments, suggestions or problems regarding this Web Site
should be directed to jim@soda-machines.com