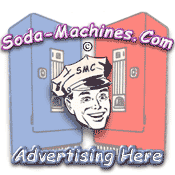 Advertising on Soda-Machines.Com's Website
General:
We at Soda-Machines.Com encourage Soda Machine Enthusiasts like yourself to advertise here! As you'll see, pricing is VERY reasonable!
Advertising fees are utilized for the sole purpose of keeping Soda-Machines.Com up and running for everyone's benefit! Advertisers, such as yourself, can benefit from the number of visitors that could possibly see your company or business banner! Our everyday visitors benefit from the abundance of information and being able to locate Soda Machines for Sale, Parts Suppliers, Restoration Professionals or any other related product!
If you don't have a Web Site, don't think for a moment that a Banner Ad couldn't help your company or business! Your company name or logo with a phone number could produce quite a few phone call inquiries! Should you need to have a Banner Graphic made for your company or business, we can provide this service for a $50.00 fee. Banner Graphics developed by our staff or contractors for your company or business will remain the property of Soda-Machines.Com.
Requirements:
Soda-Machines.Com requires Banner Ads to be No Larger than: 75 pixels in height by 400 pixels in width and in either GIF, JPG or SWF format. We also recommend keeping the Image File Size as small as possible! Fast loading images benefit everyone! Both advertisers and visitors will appreciate quick loading images!
Banner Locations:
Soda-Machines.Com can accommodate Banner Ads throughout the entire Web Site. As a rule, no more than six Banner Ads will reside on any one page. With this being said, Banner Ad locations will be available at a First-Come-First-Serve basis! Find a Good location and let us know so we can help you establish your presence here at Soda-Machines.Com.
Gold Sponsor
Our Gold Sponsor Banner placement is only available to advertisers having at least one current annual banner advertisiment.
We allow for images up to 150 pixels in height by 600 pixels in width to increase banner visibility!
Pricing for Gold Sponsors is on an annual basis only and can be purchased for $200.00.
Banners in Gold Sponsorship will automatically rotate with other Gold Sponsor Advertiser Banners; however, we're currently only accepting six Gold Sponsors to ensure good visilbility for each vendor!

As stated above, we can create Banner Images for the Gold Sponsors.
Pricing:
6 Month Running Ad
1 Year Running Ad

Single Banner Ad: $70.00
Second Banner Ad:$35.00
Third Banner Ad:$20.00
Fourth Banner Ad: $10.00

Single Banner Ad:$100.00
Second Banner Ad:$50.00
Third Banner Ad: $25.00
Fourth Banner Ad:$15.00

** All Prices are for US Currency in Dollars **
If you feel our Banner Ad Packages don't accommodate your needs, please feel free to email us at: jim@soda-machines.com with your suggestions or needs. Someone will promptly reply in order to fit your needs.